Amma Kapitu Thittam Card 2022।। Kapitu Thittam Card Apply ।। CM Comprehensive Health Insurance Scheme Card ।। Application Form Apply Online ।। Amma Kapitu Thittam Treatment List ।। Eligibility Criteria ।। Objective ।। CMCHIS Benefits ।। Required Documents ।। CMCHIS Application Form Registration Process
Amma Kapitu Thittam 2022 is a health insurance scheme initiated for underprivileged people of Tamil Nadu. The scheme aims at providing people financial aid when any medical emergency strikes. Residents of TN, who are taking benefits of the scheme, don't have to go through a financial struggle at the time of a medical emergency.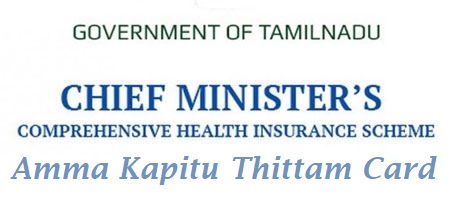 Amma Kapitu Thittam Card 2022 Short Details:
Name of Program
Amma Kapitu Thittam Card 2022
Topic
CM Comprehensive Health Insurance Scheme (Amma Kapitu Thittam Card )
Details About
Scheme, Eligibility Criteria, Required Documents, Benefits, Features, Application Form Date, Registration Process
Issued by
State Government
Benefits
providing people financial aid when any medical emergency strikes
Beneficiary
Tamil Nadu State Peoples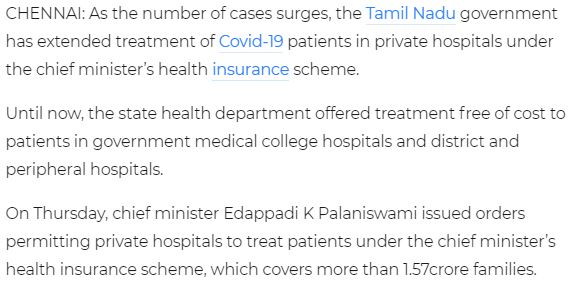 CM Comprehensive Health Insurance Scheme

The Chief Minister's Comprehensive Health Insurance Scheme provides people health treatment even when they can't afford it. It is one of the governments of India's best health insurance scheme that aims at providing best-in-class medical treatment to a low-income group of Tamil Nadu through cashless financial assistance. CM health insurance scheme proving to be successful as 65 percent of state's population is enrolled under the scheme.
What Is Covered Under CMCHIS (Amma Health Insurance)
The scheme provides financial aid to people seeking medical treatment. A beneficiary can avail following coverage-
The scheme covers the financial expenses of listed ailments in listed hospitals. People can get treatment for specific diseases in hospitals included under the hospitals.
Cost of test done and medical procedure of specific ailments will be covered under the CMCHIS scheme.
Cost of doctor's consultation after of during the treatment and in addition hospital follow-up is counted under this scheme.
Objectives of Amma Kapitu Thittam Scheme
Amma Kapitu Thittam scheme's foremost objective is to provide financial aid for medical emergencies to underprivileged people of the state.
The objective of the scheme is to financially protect BPL residents from monetary burdens and liabilities which are the result of unfortunate health-related issues and emergencies.
CM Comprehensive Health Insurance Scheme has paperless and cashless transactions. The beneficiary receives cashless benefits in enlisted hospitals for specific ailments.
Benefits of CMCHIS
The scheme provides financial support for the treatment of expensive diseases. It saves people from debt.
A wide network of hospitals has been set up under the scheme making it easier for people to approach the nearest health center for treatment.
The beneficiary doesn't have to pay anything on their own. The scheme provides cashless transactions.
The scheme covers various aspects of treatment such as getting treatment, doctor's consultations and follow up, etc.
The scheme provides health cover to whole family people can get a yearly cover of 5 lakhs.
Features of Comprehensive Health Insurance Scheme
The scheme offers support to people living in BPL in medical emergencies. One of the features of this scheme is that every family member of a family can get financial assistance for health treatment.
The scheme also makes Sri Lankan refugees eligible for the benefits with no limit of income.
Govt has set up a helpline to solve all the queries regarding the scheme.
The beneficiary doesn't have to pay anything from their pocket. All the medical treatment is free of cost and it's not hectic as the treatment process is cashless.
Eligibility Criteria of CHCHIS (Amma Kapitu Thittam Card)
Permanent residents of Tamil Nadu can enroll in the scheme. Sri Lankan refugees holding citizenship proof are also eligible.
People applying for the scheme should not earn more than 72,000 in a year.
Orphans or girl children rescued from registered or unauthorized organizations can also apply for the Amma Kapitu Thittam scheme.
People who have migrated to Tamil Nadu from other states can enroll in the scheme but they should have valid migration certificates.
The whole family can take advantage of the scheme. Member of the family include-

Children until they are married or reach the age of 25. Whichever one is earlier.
Parents
Also Check – COVID Vaccination Registration Online
Required Documents for Apply CM Health Insurance Scheme
Ration card copy
Self-declaration from family
Pan card
Aadhar card
Address proof
Identity proof
Maximum Amount Under the Comprehensive Health Insurance Scheme
CM Health Insurance scheme provides financial assistance for medical emergencies. It's valid for one year and needs to be renewed simultaneously by the policyholder. The maximum amount provides under the health cover is 5 Lakhs. The amount can be used by the whole family. Coverage provided for
List of Disease and Treatment Covered Under the Scheme
| | | | |
| --- | --- | --- | --- |
| Bariatric surgery | Obstetric surgery | Neurosurgery | Radiation oncology |
| Cardiology | Hematology | OFMS | Rheumatology |
| Cardiothoracic surgeries | Herpetology | Ophthalmology surgeries | Spine |
| Dermatology | Infection disease | Orthopedic trauma | Stemi |
| ENT | Interventional cardiology | Pediatric intensive care | Surgical gastroenterology |
| Endocrine surgery | Medical oncology | Pediatric surgeries | Surgical oncology |
| Endocrinology (follow up procedure ) | Neonatology | PMR | Thoracic medicine |
| Gastroenterology | Nephrology | Psychiatry | Vascular surgeries |
How to Apply for CHCHIS/Amma Kapitu Thittam Card
If you have all the documents required to enroll in the scheme. Just follow these steps to successfully apply for Amma Kapitu Thittam-
Acquire an income certificate from village administrative or revenue authorities.
Carry all the documents to the enrollment center.
Get the documents verified by the kiosk operator.
In the enrollment center, your bio-metric details such as fingerprints, photographs, and eye scans will be captured.
Once documents are verified and biometric scanning an E-card will be issued to you.
How to download a Health Insurance Card
When beneficiary enrolls for the scheme, a smart card is issued to them. In case of applicant lost the card, they can download the Amma Kapitu Thittam card online.
Enter the requested details.
Select 'generate e-card option.'
Now you can download the card. It will be saved on your device.
Helpline Number

If you need detailed information about the scheme you can contact the relevant authority on this helpline number or E-mail ID.

Mobile number- 1800-425-3993

E-mail ID- [email protected]
FAQs
Q. Who is eligible for the CMCHIS?
Ans. People who are permanent residents of Tamil Nadu can apply for the scheme. Unmarried or Children under the age of 25 and parents of a family are eligible for it.
Q. In which hospitals treatment is available?
Ans. You can get the list of available hospitals under the scheme by visiting http://www.cmchistn.com/hospitalList.php
Q. Can I claim reimbursement under the scheme?
Ans. No, the beneficiary can only get cashless treatment under this scheme.
Q. What is the minimum sum given under the CMCHIS?
Ans. People applying for the scheme will get maximum health insurance of Rs 5 Lakhs.
Also Check- Country Delight Referral Code (Latest) Get Rs 300