Delhi Driver 5000 Yojana Online Form 2022 Apply Online, Payment Status,  Delhi Auto Driver Relief Fund Website, Delhi Govt Auto Driver 5000 Rupees Corona Sahayata Yojana (दिल्ली ड्राईवर योजना  -5000 सहायता स्कीम))
Lockdown amid the second wave of the outbreak of the Corona Virus COVID-19 epidemic has further exacerbated the difficulties of poor people. In view of this, Delhi CM Arvind Kejriwal has taken the important decision that auto taxi drivers will be given Rs 5000 per month. Therefore, the government is inviting the Delhi Driver Yojana 2022 online application/registration form. Those who want to take advantage of this Delhi driver help scheme online form can apply through the driver scheme (auto, taxi driver) application form www.delhi.gov.in & www.transport.delhi.gov.in, and You can also check the application form status.

Delhi Driver Scheme 2022 (Auto + Taxi Driver) Short Details:
Name of Program
Delhi Driver Yojana
Topic
दिल्ली ड्राईवर योजना  (5000 सहायता स्कीम)
Details About
Scheme, Eligibility Criteria, Required Documents,  Application Form Date, Registration Process, Application Status
Issued by
State Government
Name of Department
Delhi Transport Department
Scheme Announcement
04 May 2021
Announced by
CM Arvind Kejriwal
Yojana Amount
Rs 5000
Application Commences from
10 May 2021 (Started)
Closing Date of Application Form
Not Decided Yet
Application Mode
Online
Benefits
Delhi Govt will provide 5000 financial assistance for Drivers
Beneficiaries
Auto Rickshaw, Gramin Sewa, Taxis, Maxicab, Phatphat Sewa, e-Rikshaws, School cabs, Eco-Friendly Sewa
Official Website

www.delhi.gov.in & www.transport.delhi.gov.in
xx
ऑटो और टैक्सी चालक दिल्ली की परिवहन व्यवस्था का अभिन्न अंग है। लॉकडाउन के दौरान ऑटो और टैक्सी चालकों की रोज़ी रोटी पर बुरा असर पड़ता है। पिछले साल की तरह इस बार भी हमने दिल्ली के ऑटो और टैक्सी चालकों को ₹5 हजार की सहायता राशि देने का निर्णय लिया है। pic.twitter.com/a0mUnYjR5B

— Arvind Kejriwal (@ArvindKejriwal) May 4, 2021
Delhi Driver Yojana 2022 (Online Form)
Here is Good news for Delhi's Auto Rikshaw, Gramin Sewa, Taxis, Maxicab, Phatphat Sewa, e-Rikshaws, School cabs, Eco-Friendly Sewa drivers. Delhi CM Arvind Kejriwal recently announced a scheme called "Delhi Driver Yojana" amid Corona's lockdown (COVID-19). Under this scheme, registered drivers of Delhi will be given Rs 5000. This amount will be transferred directly to the linked bank accounts through DBT (Direct Benefit Transfer). The plan was announced on 4 May 2021. All eligible applicants can apply online and fill the registration form for the Delhi Driver Scheme. Only those drivers who are registered with NCT Delhi will get the benefit of this Scheme.
Objective of Scheme
एक बार फिर दिल्ली सरकार पिछले साल की तरह इस बार भी दिल्ली के ड्राईवर, ऑटो चालक, टैक्सी चालकों को 5000 रूपये की आर्थिक सहयता प्रदान की जाएगी । मुख्यमंत्री ड्राईवर सहायता योजना का दूसरा चरण आरंभ किया गया है इस योजना के तहत ऑनलाइन फॉर्म रजिस्ट्रेशन स्टार्ट हो चुके है । ताकि वहा के सार्वजनिक वाहन चालक कोरोना वायरस की आपदा के चलते अपना भरन पौषण कर सके ।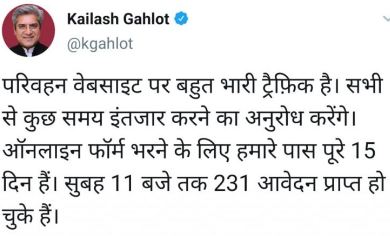 Eligibility Criteria
Drivers having a valid driving license
Holding a PSV Badge (issue before 23 March 2020)
A beneficiary who is the owner of public transit passenger vehicles such as auto-rickshaw, taxi, phat-phat Sewa, maxi cab, e-rickshaw, school cabs, eco-friendly Sewa, and others.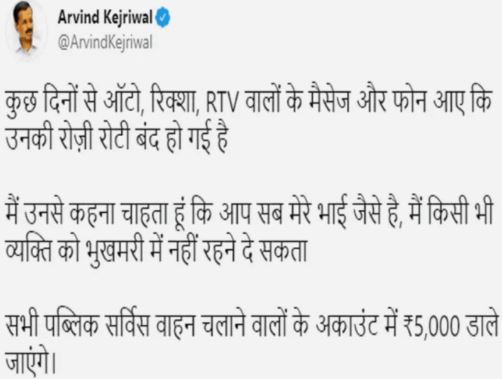 Required Document For Delhi Driver Corona Sahayata/Relief Fund Yojana
PSV Badge Number
Driving License
Mobile Number
Aadhar Card Number
Bank Accounts
How to Apply Online for Delhi Driver Corona Help Yojana Application Form
Visit the official website of the Transport Department. www.delhi.gov.in- Click Here to Website
Open the home page and click on the "Applications for Financial Assistance of Rs. 5000 to PSV Badge holders of Para-Transit Vehicles" link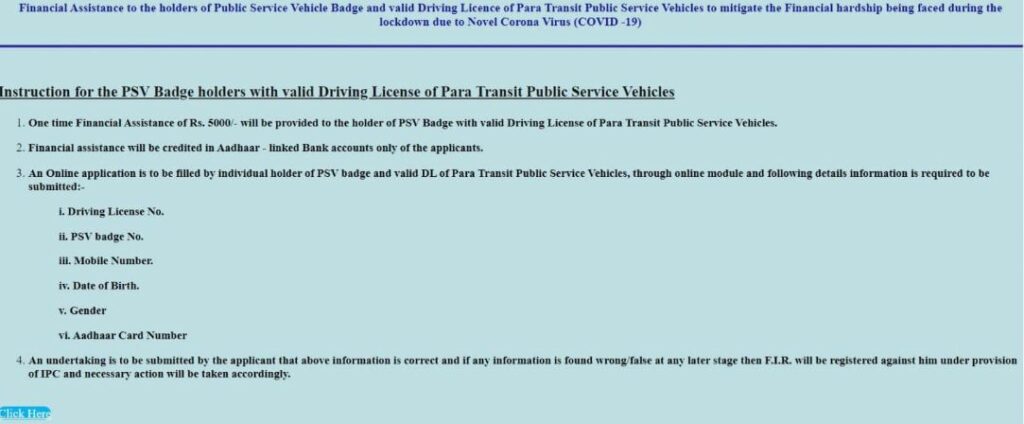 Show the Instruction page before filling the application form
Now click at the Click here link, then open the Driver Scheme online registration form

Open the application form & fill in the required details
Now click on Submit Button
नोट: दोस्तों, अभी कुछ समय वेबसाइट के लिए इंतज़ार करना पड़ेगा, अभी तक आवेदन करने के लिए ऑफिसियल वेबसाइट पर लिंक जारी नही की गयी हैं| जैसे ही जारी होगी हम यहाँ पर अपडेट कर देंगे| इस वेबसाइट से जुड़े रहें flyingreturns.co.in
Delhi Driver Rs 5000 Scheme Online Application Form
Visit the official website
Now open the home page
Then click on "Application Status"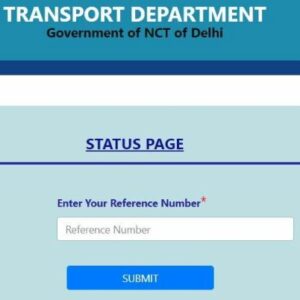 Open a new web page, enter the Reference Number to check the status
Click on the submit button
Your application status will appear on the screen
Helpline Number
Here we are provided the helpline number that you can be used to ask your queries. You can contact given below mention number from 9 AM To 6 PM.
011-23930763
011-23970290
FAQs
Q. What are the essential requirement for a financial Assistant/
Ans. Candidates must have a valid Driving License, Aadhar Card link with Bank Accounts, and PSV Badge, and others.

Q. What is the time duration for Delhi Driver Yojana Form Registration?
Ans. The registration starts on 5 May 2021.

Q. Where can I apply for the Delhi Auto + Taxi Driver Application Form?
Ans. People can apply for the Delhi Driver Scheme Application form through Delhi Transport Department.

Q. How much financial assistance is being provided under the Driver Scheme of the Delhi Government?
Ans. Rs 5000 will be given continue two months (2 times).