KSP CLEAR Pass Apply Online 2021 || Seva Sindhu Karnataka gov in e pass || Check Status KSP clear pass online Application for Individual || Seva Sindhu Karnataka lockdown e pass Covid 2021 || KSP Clear Pass App Download
In Karnataka, the second wave of the corona is proving to be very dangerous and in view of increasing cases of corona epidemic, a lockdown has been announced for the next 14 days. This lockout will come into force from 9 pm on 27 April 2021. During this time only the construction, manufacturing, and agricultural sectors will be allowed to open and the essential services will be open from 6 am to 10 am. KSP Clear E Pass online application for the pass of the journey will be done on the portal  https://covid19.karnataka.gov.in/ sevasindhu.karnataka.gov.in. Eligible candidates can apply for covid-19 curfew e pass through online or KSP Clear E Pass App.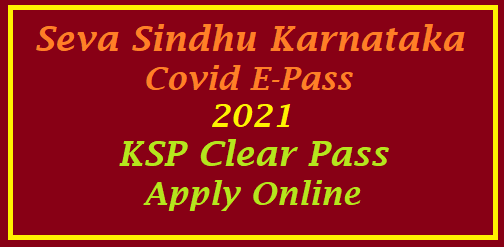 KSP CLEAR Pass Seva Sindhu Karnataka Covid Curfew  2021 Short Details:
Name of Program
KSP Clear Pass
Topic/Article Category
Seva Sindhu Karnataka Lockdown E Pass
Issuing Authority
Karnataka Police
Issued by
State Government
Benefits
Travel in Covid 19 Curfew
Beneficiary
Residents of Karnataka
Lockdown Time

27 April to 12 May 2021

Official website

covid19.karnataka.gov.in




www.kspclearpassmygate.com




sevasindhu.karnataka.gov.in
About KSP CLEAR Pass Seva Sindhu Karnataka

In view of the increasing cases of Coronavirus, the Karnataka state government has imposed Corona curfew in the entire state for two weeks, the lockdown will be from 27 April to 12 May 2021 at 12 noon. There are entry restrictions for travel by bus, train, car, flights during this lockdown. Karnataka Chief Minister BS Yeddyurappa has said that the Corona curfew has been implemented for 14 days. Shops of essential goods/items will be allowed to remain open from 6 am to 10 am. Sectors such as manufacturing, agriculture can continue with their operations but will have to comply with and follow the strict guidelines of Covid 19. The required service person can obtain travel permission by applying online for e-pass Karnataka Police, and get his admission pass KSP Clear from Tamil Nadu and other states.
What is allowed In Karnataka Lockdown Curfew?
The state government has allowed the following services to operate between 6 am and 10 am daily.
Dairy and Milk Booths
All stores dealing in Food products
Animal Food Shops
Meat and fish Vendors
Groceries, fruits and vegetable shops
Banks, insurance offices, and ATMs
Telecommunication, Internet Services,
Broadcasting and Cable Services
Wedding Ceremonies
And others
Required Documents for KSP Clear E-Pass (Covid-19 Curfew)
Candidates Name
Candidates Mobile Number
Aaddhar Number
Other Details
Karnataka Emergency Services Mobile Application Links
How to Apply for Karnataka Lockdown E- Pass
People visit the official web site of Seva Sindhu kspclearpassmygate.com Click Here to Official website
Then open the home page
Now click on Apply E-Pass Link
Then open the Application form
Enter the required detail such as Movement Details, applicants details, vehicle details, the purpose of traveling, and other details
Attach required documents
Now click on submit button
Check Status KSP Clear Pass Seva Sindhu
If you have registered e-pass but did not get the E-pass
Then you visit the official website of Seva Sindhu sevasindhu.karnataka.gov.in Click here to website
Then show the link of Track Your KSP Clear Pass Seva Sindhu Application and click on it
Now open a web page then enter your registration number and mobile number
Then click on the search button
After a few seconds, your application status will appear on your screen.
Helpline Number
For any queries regarding the online KSP Clear Pass, Please feel free to contact the following helpline numbers-
Helpline Number – 1090, 080-22943226, 9243737220, 9243737230
Any Issue with KSP Clear Pass Contact
080-2294200
080-22942325
080-22942330
FAQs

Q. Who does not need a pass?




Ans.

Government Officials on essential duty, Medical Professionals and private security guards, Media personnel, Government vehicles, Bank employees on essential duty.

Q. What is the validity of the Pass?
Ans. The period of validity of the pass depends on the period sought by the applicant and the period given by the issuing authority of the pass.

Q. Should I carry a hard copy or a soft copy of the pass?
Ans. A digital copy of the pass can be shown in the web application.
Also Check- Post Office Double Money Scheme 2021