Uttar Pradesh Majdur Swasthya Bima Scheme Apply Online | UP Labour Health Insurance Scheme Online Registration | Check Application Form Status | Uttar Pradesh Shramik Swasthya Bima Yojana | Eligibility Criteria | Required Documents | Registration Process
Uttar Pradesh Chief Minister Yogi Adityanath announced two schemes for laborers on International Labor Day. First – All workers will be given an insurance cover of Rs 2 lakh for accidental death or disability. Secondly, a health insurance cover of Rs 5 lakh will also be provided. Those Sharmik/Majdur/Labour who want to get benefit this Scheme can apply the  Uttar Pradesh (UP) Labour Health Insurance Yojana/Scheme Application form through official website www.upbocw.in or given below mention direct links, candidates can also check the application form status.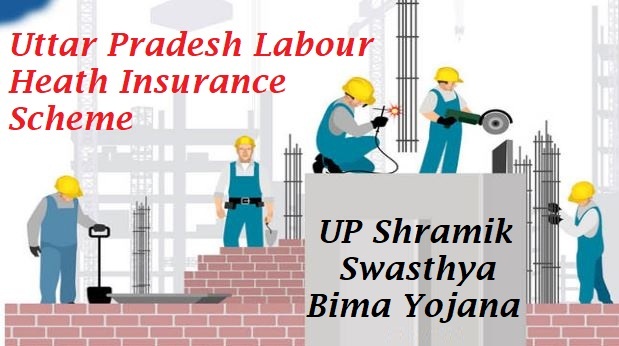 UP Shramik Swasthya Bima Yojana 2022 Short Details:
Name of Program
उत्तर प्रदेश श्रमिक स्वास्थ्य बीमा योजना
Topic
UP Labour Health Insurance Scheme
Details About
Scheme, Eligibility Criteria, Required Documents, Application Form, Registration Process, Application Form Status
Issued by
State Government
Benefits
रुपये का स्वास्थ्य बीमा कवर। पंजीकृत मजदूरों को 5 लाख भी दिए जाएंगे।, आकस्मिक मृत्यु या विकलांगता के लिए सभी मजदूरों को 2 लाख
लाभार्थी
राज्य के मजदूरों के लिए
Department Name
Labour Department Government of Uttar Pradesh
Announced on
01 May 2021 (On Labour Day)
Announced by
UP CM Yogi Aatiyanath
Application Mode
Online Mode
Official Website

www.upbocw.in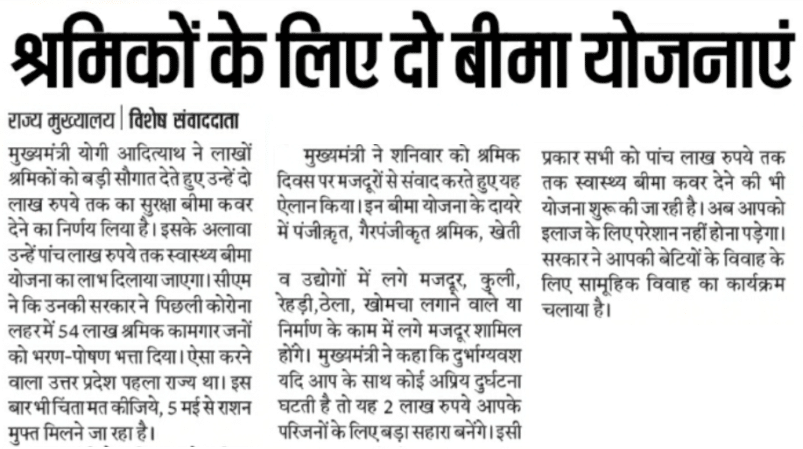 About उत्तर प्रदेश श्रमिक स्वास्थ्य बीमा योजना
About UP Labour Health Insurance Scheme 2022
The Government of Uttar Pradesh has launched various schemes to help the daily wage laborers. One of which is the UP Shramik / Majdur Health Insurance Scheme. Under this scheme, all workers of Uttar Pradesh will be given a cover of up to Rs 5 lakh in health insurance, and all workers will be given a cover of up to 2 lakhs for accidental death or disability. Those who register under this scheme can avail of this UP Majdur Health Insurance Scheme in their bank accounts through DBT mode, so you will have to fill UP Health Insurance Scheme online registration form 2022. The entire procedure for filling out the form is given below.
Eligibility Criteria for Shramik/Majdur Swasthya Bima Yojana
If you are a daily wage laborer, then you have to keep some documents for registering Yogi Majdoor Health Insurance Scheme to get the benefits: –
The laborer should be a permanent resident of Uttar Pradesh.
Workers should have a registration certificate from UP Labor Department, Municipal Council / Corporation, or Gram Sabha.
If the applicant worker is registered in any of the above departments, the assistance amount will be transferred directly to their bank accounts.
Required Documents for UP Majdur Helth Insurance Yojana
Aadhar Card Number
Select Board
Select Your District
Mobile number
Other Details
How to Apply for UP Labor/Majdur Swasthya Bima Yojana 2022 Application Form
First of All, go to the official website- www.upbocw.in Click Here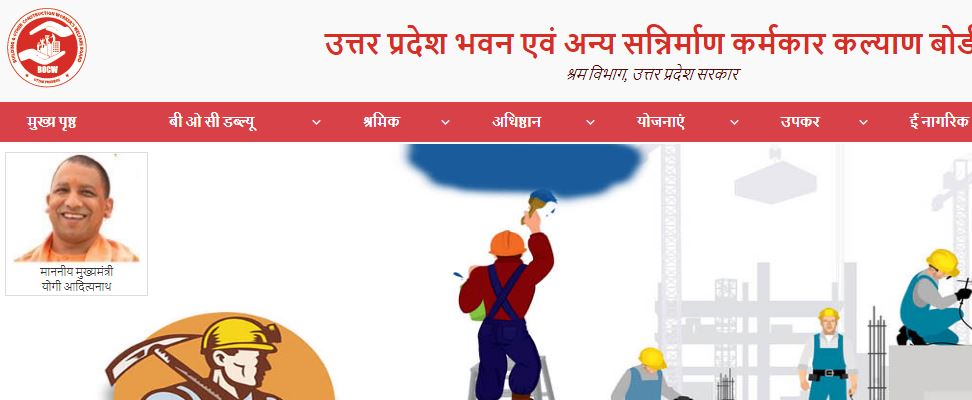 Now go to Sharmik Tab and Click on Sharmik Panjiyan/Sanshodhan menu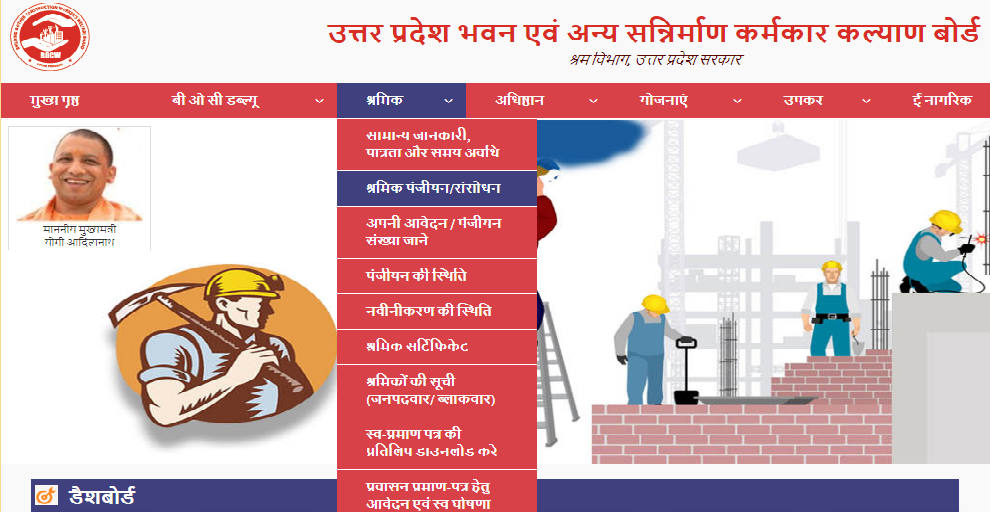 Open the Sharmik Registration Form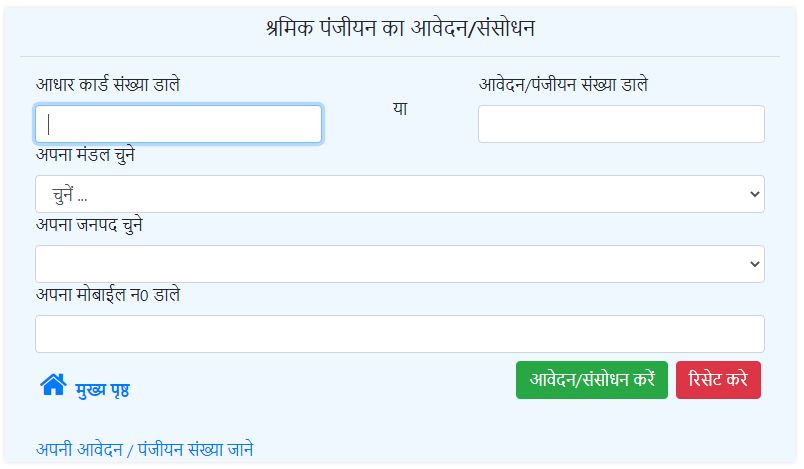 Then Enter your required Details
Now click on Apply/Amend (Aavedan/Sanshodhan Karein) button
How to Check Uttar Pradesh Sharmik Swasthya Bima Yojana Form Status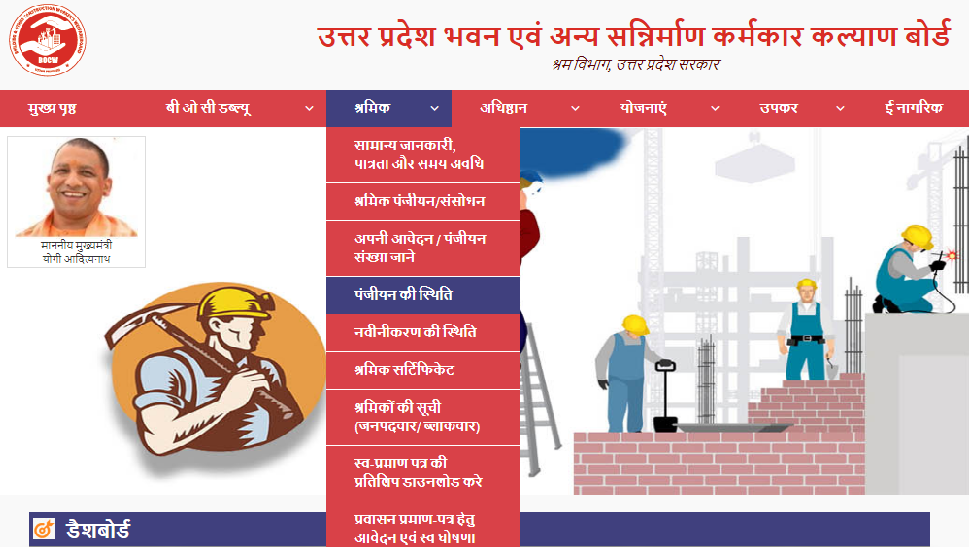 Go to श्रमिक menu and click on पंजीयन की स्थिति

Open application Status Form
Enter your required details such as registration number and mobile number
Then click on the search button
Your status will appear on a computer screen
HelpLine Number
If you have any problem regarding Uttar Pradesh Labour Health Insurance Yojana / UP Majdur / Shram Swasthya Bima Yojana, you can contact me on the contact number given below.

Helpline Number – 1800-180-5412
Also Check- यूपी मुख्यमंत्री अभ्युदय योजना 2022